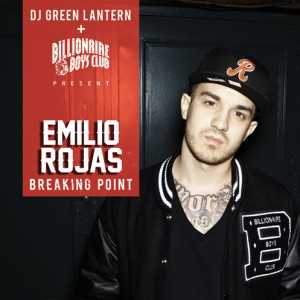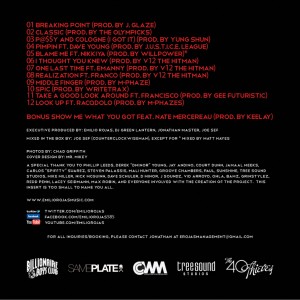 Been waiting on this puppy for a minute now and finally Emilio Rojas in conjunction with Billionaire's Boys Club and DJ Green Lantern present "Breaking Point." The tape is featuring production mainly from V12 The Hitman in addition to J.U.S.T.I.C.E. League, M-Phazes, WrighTrax, WillPower and more. This tape is so ridiculous.  Listen and dissect each lyric! Check the mixtape and some extra goodies but clicking below. @MinaSayWhat
Breaking Point starts off very light and by the end is so deep. Breaking Point was the first song Emilio released and it's a beast! "One Last Time" is a song about a volatile relationship – so insightful and real. On point! I really identified with Emilio when he talks about his mother's sacrifices on "Spic." Caused me to have flashbacks of my mom and the things i watched her do as a child, like not eat just so i could. "Take A Good Look Around" just blew me away! It's really from his heart. His words are so powerful and he has such a unique way to paint pictures, tell stories and incite emotion. The last song "Look Up" leaves me feeling hopeful. I can not stop playing Take A Good Look Around and Look Up. I have joked with Emilio about the "darkness" in his music, but the reality is i think he's special because of his ability to express himself and his struggles so eloquently. He's so damn cocky that i would never say that to his face! LOL But real talk Emilio HAS to get signed off of this! This talent is undeniable. Heads will turn with this. You can't cage a beast! Cray!
Emilio has already released the vid for 
Middle Finger
. Check my exclusive MinaSayWhat.com interview with Emilio regarding possibly getting signed to Rick Ross' Maybach Music Group and his freestyle 
Here
. Watch my full interview with him where we talk about this project and everything and anything you would to know about Mr. Rojas 
Here
. Finally, below is Emilio Rojas'
MTV Mixtape Daily
 feature where he discusses production credits,  collaborations on the mixtape and what he would do with a big label budget.
LEAVE A COMMENT
comments