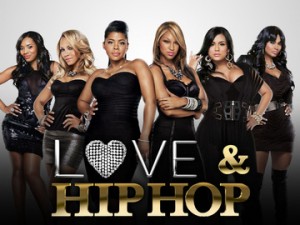 As I watched the finale of Love And Hip Hop season 2 last night (1/23) I had a lot of thoughts. I read all the funny ass crazy tweets about the show and I couldn't help but feel that besides the ratchetness that we all know and love, there are lots of gems that this show is dropping on the hip hop culture and the music industry, especially about relationships.  I had a close friend tell me once that every man cheats.  If you listen to hip hop you rarely hear men rap about healthy, monogamous relationships.  Events in the culture also suggest this broken relationship dynamic, most recently Fat Joe's wife divorcing him for his alleged cheating.  In this show you see Kimbella having children by a man that (as she says) isn't being there for her or the family (probably because he's cheating) and Emily putting up with a man that cheats! So I come to ask myself.. Am I part of a culture that perpetuates the broken home? To watch Chrissy break it down about loyalty and cheating to Emily and read more of my thoughts click below! @MinaSayWhat


This leads me to the conversation in above clip were Chrissy talks to Emily about loyalty and cheating. I have heard a lot of people say things about Chrissy. She's a gold digger, she's been around the block, etc etc. Say what you want about Chrissy, but it's apparent to ME that she has some sense! The above clip of Chrissy's conversation with Emily is an example of that and Chrissy is right!  Yes dealing with a rapper might be difficult because there is always a dirty bird flocking around trying to get her shine on, but the reality is that if a man loves you (regardless of what he is.. a rapper, a dj, a plumber, a security guard, etc) he will do all he can to make sure he is loyal to you. And yes men have weak points, but running around with the next chick on a regular basis is not a weak point. That's a cheater!
So before I start going on a rant about this I will say this.  A man that loves his woman is truthful and loyal to his woman. He treats her good at all times and does whatever he can to make her happy.  As Chrissy says in the clip, you cannot let him get away with flaunting (or even being too friendly with) other women in your face because that is just disrespectful. Chrissy's philosophy is she knows stuff happens, but her man better not act funny and she better not find out about it!  As for me, I have to believe the things my momma taught me are true.  I believe there are still good men out there that are true to their women and do not cheat.  Shit if you ain't ready to be with one person than don't get into a relationship at all! I wish this culture would stop perpetuating the opposite cuz then these regular ass little kids grow up and act just like what they see and hear on tv.
As for the gems last night's Love And Hip Hop finale dropped…
1. A man that loves his woman puts a ring on it. (Jim)
2. A man that loves his woman openly acknowledges her. (Jim)
3. A women with any self respect will never stay with a man that cheats. (Emily.. even tho i believe it took her too long to realize that)
4. If you are deciding to have multiple children with someone. Make sure your partner is mentally ready to raise a family. (Kimbella)
So in between all the ratchetness that we like to watch i hope the culture is learning from these females' situations. Cuz as my mommma always said, people will only do to you what you allow them to do. And as I tweeted last night, "Jim Jones has my upmost respect..for showing a culture used to seeing their women treated incorrectly how to do the right thing."
LEAVE A COMMENT
comments