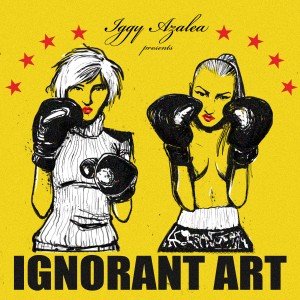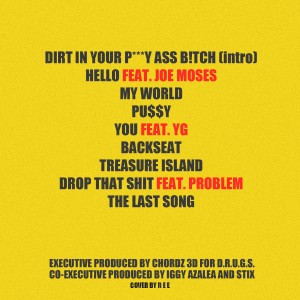 I listened to this a couple of times before i made this post.  I must admit, when i first heard Iggy got signed off this mixtape i had some thoughts.  My immediate reaction was.. this girl has not proved herself yet.  This is her first mixtape and she has not built the following an artist needs to be successful (especially as a female since historically its hard for a lot of females rappers to do well).  I thought the Interscope signing was pre-mature, but after listening to this and really sitting with her music i understand why they signed her.  This Australian is pretty, interesting, dynamic and she can rap her ass off.  To add to that, the way she has moved until her signing point is very intelligent.  Read more about Iggy and listen to the mixtape by clicking below. @MinaSayWhat


Iggy started getting attention when she released videos putting her sexuality on blast causing people to be interested. For example the video for "Pussy" displayed her pelvis area with a picture of a cat for the whole video. The video is no longer on the internet (or at least i can't find it) and now another is there in its place. "My World" followed with lots of tongue action. She remade Chris Brown's "Look At Me Now" in lingerie, released this mixtape and voila, she was signed. Her looks and figure attract people and it doesn't hurt that she can rap her ass off. Although i feel signing her was pre-mature (considering the large amounts of buzz people need to have these days to get signed), i do think someone was bound to snatch her up off the the large potential. Rumors are that Epic and Def Jam were courting her, but Interscope seems to have proposed terms that Iggy was feeling.
As for the mixtape. She can definitely spit! At first i thought she was one dimensional, but when i got to "You" featuring YG, I changed my mind. Iggy Azalea is pretty, got a big butt (that seems to help.. e,i, Nicki Minaj,, lol), can rap and can show emotion for the ladies. I do however think she needs to stop randomly yelling like a crazy woman. We already have one Nicki Minaj, wed on't need another. And imma need Jimmy Iovine to stop calling her the next Tupac just because she adores 2Pac. There will never be another 2Pac. Thank you and goodbye. Check her remix to Nicki Minaj's Roman In Moscow courtesy of GlobalGrind.

LEAVE A COMMENT
comments