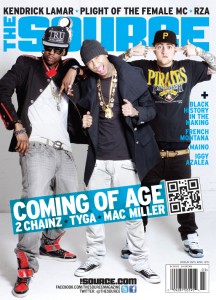 This "Coming OF Age" cover story is very appropriate for The Source's March edition (shout out to The Source i was in their February edition).  2 Chainz is one of the most rapper out right now, Tyga has a smash album Careless World: Rise Of The Last King available right now and is killin the streets with his joint Rack Cityand Mac Miller has broken some records with his last independent release.
"Hey Young World" (p. 48) takes an up close and personal look into 2 Chainz, Tyga, Mac Miller, and Kendrick Lamar. Each artist sat down for an exclusive interview with The Source, to discuss leading his own movement. 20-year old Mac Miller silences the naysayers by doing what works best for him. Miller says his fan base is "growing wider than people give me credit for." And newly signed Def Jam artist 2 Chainz says he's "hungry like that younger me." Tyga even admits, "most of my fans are from 12 to
25."
Check the behind the scenes from the shoot with Tyga by clicking below for more and my recent interview with him HERE. 
[youtube]http://www.youtube.com/watch?v=I-uRVWIZrow[/youtube]
LEAVE A COMMENT
comments