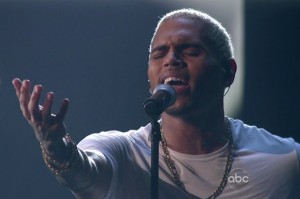 And the rumors are confirmed. Chris Brown will perform at the Grammy's, the same stage Chris has avoided since being condemned for beating his girlfriend at the time, Rihanna, on that same weekend in 2009. This year he is up for three Grammys, including Best R&B album for F.A.M.E., as well as Best Rap Performance and Best Rap Song for "Look at Me Now" featuring Lil Wayne and Busta Rhymes.  Breezy will be performing (MY SONG) Turn Up The Music, Beautiful People and I Can Only Imagine with David Guetta and Lil Wayne. In line with what Breezy has said, he will not be doing interviews and will skip the red carpet. 14 time Grammy winner Alicia Keys will also take the stage to do a tribute for the late great Etta James. She will be performing A Sunday Kind Of Love with Bonnie Raitt. Jennifer Hudson will be paying tribute to Whitney Houston in light on her recent unexpected passing. Tony Bennett and Carrie Underwood have also been added to the performance line up that includes

Nicki Minaj (who is scheduled to performance a new song titled "Roman Holiday" off her forethcoming Pink Friday: Roman Reloaded album) , Rihanna, Adele (in her first live performance since undergoing vocal cord surgery last fall), Kelly Clarkson,  Coldplay, Bruno Mars, Paul McCartney, Katy Perry, Bruce Springsteen and Taylor Swift.  Looks like Chris and Rihanna will finally get to share the Grammy stage together, both having cancelled their performances just 3 years ago because of their physical fight.  It's not like they haven't seen each other tho.  They have been partying at the same spots and have even shared subliminal tweets on twitter. As previously announced LL Cool J will host the show. Watch it this Sunday, 2/12 at 8p ET.
Sidebar: As for Nicki Minaj, word is Roman Zolanski will actually be the one performing. The morning after the Grammy's catch Nicki Minaj debuting another song and the album's next official single "Starships." She also recently unveiled Marilyn Monroe. Nick is up for Best New Artist, Rap Performance and Rap Album at the Grammy's and her appearance there continues a bunch of high-profile performances (SuperBowl) that will put her in a great position when her album drops on April 3rd.
LEAVE A COMMENT
comments