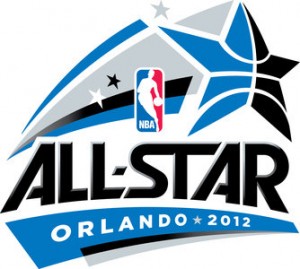 All Star weekend is well underway in Orlando. Last Night (Friday 2/24) was the rising stars and celebrity games. Kevin Hart won MVP for the Celebrity game that included J. Cole, Common, Ne-Yo, Vinny from The Jersey Shore and many others on it's roster. Check  some pictures and highlights from Cole, Kevin and Common by clicking below for more.
Today 2/25, is the 3 point and slam dunk competitions. Will.i.am and FloRida will be performing.
Tomorrow 2/26, as the ball players prepare to show off in front of the world at All-Star Game, Mary J. Blige is preparing to sing the National Anthem. Nicki Minaj, Pitbull and Ne-Yo are preparing to perform on the All-Star Game halftime show.  And J. Cole will be performing at the Sprint Pre-Show. Nicki will be performing Starships and Super Bass and Pitbull/Ne-Yo will be bringing the court down with Give Me Everything Tonight. Watch the NBA-All Star game tomorrow (Sunday) at 7p ET.
Celebrity Game: Kevin Hart's alley to J. Cole
[youtube]http://www.youtube.com/watch?v=81pt5i07V1Y[/youtube]
Celebrity Game: J. Cole blocks Common
[youtube]http://www.youtube.com/watch?v=W7l4HRhRHgo[/youtube]
LEAVE A COMMENT
comments