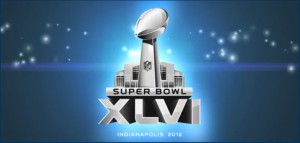 The talk at every water cooler and class homerooms today is last night's Superbowl events. Congratulations to the NY Giants for beating out the New England Patriots for the Superbowl title once more 21-17. Second to that everyone is talking about Madonna's half time performance and M.I.A. giving everyone the (middle) finger during her performance with Madonna on her new song Give Me All Your Luvin. Next on the list is the commercials (of course) and lastly does Birdman really owe 5 million dollar to 50 Cent and/or an online betting agency? Watch the halftime show, look at the middle finger close up, watch some of the commercials and read more on the Birdman situation by clicking below. @MinaSayWhat[youtube]http://www.youtube.com/watch?v=ROkhklj0ZGs[/youtube]
Madonna headlined the half time show and bought out some guests. She performed "Vogue," "Music" with LMFAO, her new song Give Me All Your Luvin with Nicki Minaj & M.I.A. (who flashed her middle finger during her performance) and "Prayer" with Cee-lo Green. The Madonna performance was okay.  I felt like the direction the creative director took should have been different.  They managed to capture her youth, but i felt like it did not command the presence that a performance from a pop icon should have commanded.  I feel like it portrayed her too youthful and girlie and playful.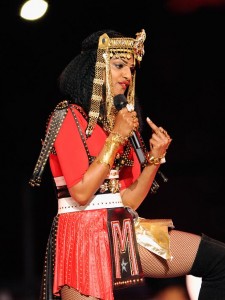 Madonna was never known for dancing and i was not a fan of all the jumping around. She began great with "Vogue" and the Roman theme. It really displayed the regal, royal feel i had hoped would come from a person that represents that to the pop community.  The ending performance to "Prayer" i feel captured this idea especially the long black dress and the choir, but everything in between that was just not what i expected from Madonna. But at the end of the day, she remains Madonna a living pop icon and overall she worked!   And PS Cee-Lo did appear after he said he wasn't going to!
Now Baby, aka Birdman, aka Stunna aka guy that is B.M.F. decided to tweet "I like New ENGLaNd.my nephew play RB# 42.I'm Bet 5million 2 any ni**aaa.like tha Giants YMCMB.BabyMoney anybody kan Getit." And the bets were on. Apparently  #42 BenJarvus Green-Ellis, running back for the New England patriots, is his nephew. 50 Cent responded to the wager via twitter "I'm up 500,000 off the last one…. ill bet it back Ill put a 1,000,000 on my G MEN. STUNNER you got the # hit me if you want it" and an online betting company tweeted "If Birdman is prepared to put his money where his mouth is, we are prepared to accept his $5 million wager on either the point spread or the money line of Super Bowl XLVI." No word if Mr. Big Time has yet to put any moolah down, but people are talking Birdman.
Lastly, the Commercials are always the best! Check some of them out!
Doritos
[youtube]http://www.youtube.com/watch?v=y3bqbJduK2w[/youtube] [youtube]http://www.youtube.com/watch?v=r2kQFEjkhBQ[/youtube]
Hyundai
[youtube]http://www.youtube.com/watch?v=USep_tB_5oU[/youtube]
Coca Cola
[youtube]http://www.youtube.com/watch?v=S2nBBMbjS8w[/youtube]
Ciroc featuring Diddy
[youtube]http://www.youtube.com/watch?v=mKIKoGU7b5Q[/youtube]
Sketchers
[youtube]http://www.youtube.com/watch?v=MlYCBJSYWBQ[/youtube]
M&M's
[youtube]http://www.youtube.com/watch?v=yn3mktl30iw[/youtube]
Audi
[youtube]http://www.youtube.com/watch?v=lw9ZeXB2uKs[/youtube]
Pepsi
[youtube]http://www.youtube.com/watch?v=Rcf01QTcO6E[/youtube]
Chevy
[youtube]http://www.youtube.com/watch?v=XxFYYP8040A[/youtube]
VW
[youtube]http://www.youtube.com/watch?v=0-9EYFJ4Clo[/youtube]
 H&M 
[youtube]http://www.youtube.com/watch?v=eQb_-OY7Z0E[/youtube]
Teleflora
[youtube]http://www.youtube.com/watch?v=uWrJgFjxlS0[/youtube]
Honda
[youtube]http://www.youtube.com/watch?v=VhkDdayA4iA[/youtube]
Budlight (x2)
[youtube]http://www.youtube.com/watch?v=hyFWSys3TJU[/youtube] Featuring Kanye West "Runaway"
[youtube]http://www.youtube.com/watch?v=7IeuOlbangQ[/youtube]
Kia
[youtube]http://www.youtube.com/watch?v=lHZbXvts0LE[/youtube]
Metlife
[youtube]http://www.youtube.com/watch?v=j1RCplpVaQ0[/youtube]
LEAVE A COMMENT
comments