– A naked man was shot dead by police after he ate the face off another man while high on LSD.. Moral of the story? Stay OFF that molly!
– A Texas woman was arrested after tweeting "pigs will NEVER catch me." The popo located and arrested the woman, who had a warrant out for her arrest, for outstanding traffic violations. YOLO!!!! LMAO!
– A 20-year-old man allegedly poured bleach into his newphews' milk. The guy was angered over getting tossed out of his brother's home. Thankfully the boys have recovered and were treated at a hospital for severe vomiting and diarrhea.
Check the picture of the man who ate another guys face AND the woman who faked cancer by clicking below for more.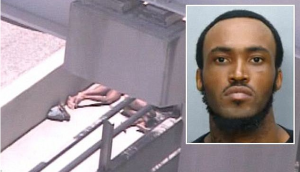 –
– A women is being accused of faking terminal cancer for wedding gifts. She reportedly faked terminal lukemeia in order to rake in thousands for a dream wedding and a honeymoon. #Ratchet
#SayWhat News is every Wednesday and Friday at 7:50 on Philly's Power 99! @MinaSayWhat
LEAVE A COMMENT
comments