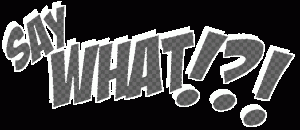 – A 52 year old man named Calvin Hill allegedly stabbed his friend in the back of a PT cruiser over an argument over who has the most sex. When asked if he stabbed his friend he said no and that "he stabbed himself"
– Angel Adams, a lady 8 months pregnant with her 16th child, got tasered by the police after attacking them when they questioned one of her sons about throwing rocks.
– Woman is found NOT GUILTY of assault after she adhered to her boyfriends request to "straightened" his penis with a hot iron.  The chick literally put her then boyfriend's penis is a hot hair straightener and squeezed.
LEAVE A COMMENT
comments