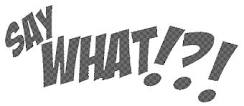 – Facebook selling its IPO and people becoming "instant millionaires" from it was all hype. Four of the major buyer companies are saying cuz of technical glitches and facebook going public 30 minutes late, they lost 100 million plus and are still experiencing problems with customer orders.
– This crazy old pastor is talking reckless and people are protesting. In a you-tube video he said "build a great big large fence 50 or 100 miles long. Put all the lesbians in there. Fly over and drop some food. Do the same thing with the queers and the homosexuals. Have that fence electrified so they can't get out. You know what, in a few years, they'll die out. You know why? They can't reproduce." Dude is buggin
– This next story involves Obama's daughter's school. There was an email sent to all the parents in Sasha and Malia's school saying that, among other things, their children would receive "a voucher that may be redeemed for their choice of contraception" at the prom this year. People are saying it was a prank.
LEAVE A COMMENT
comments