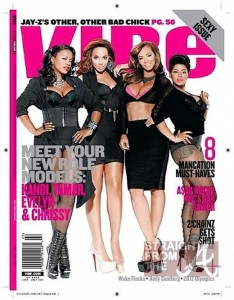 This is June/July's cover claiming these reality show stars are your new role models.  They highlight and ask Kandi Burruss, Tamar Braxton, Evelyn Lozada and Chrissy Lampkin questions that everyone has been wondering. Some people are taking the cover statement as sarcasm and some people are upset that Vibe would even put these women on the cover of a mag. Read some of the questions by clicking below for more.
VIBE: Star Jones started a petition, lashing out against women and violence on reality TV. What's your reaction?
Evelyn: [Bursts into laughter] I think she's going to have to get a whole lot of names. Actually, I like the petition and I like the controversy because I've learned controversy is good. But I think she's irrelevant. And she's using our coattails to get relevant again. Nobody gives a fuck about her.
Chrissy: Whatever Star Jones is feeling is a little deeper than what she sees. I think she has her own issues.
Kandi: She may not be violent, but I'm sure she goes off on people in her day-to-day. I just don't think it's fair to block somebody from getting money.


So you're saying the producers orchestrated the violence?

Chrissy:Absolutely. They would go as far as telling the new girl, "Chrissy thinks she's Queen Bee around here so we need you to step up because nobody here has a strong enough personality. We need you to shut it down." They were feeding people this negative energy from the door. I have no reason to lie.
Kandi: If [the producers] know this person and that person don't get along, they'll be like, "Okay, we want you guys to go to lunch." They know if they have a conversation about what's going on, something's gonna jump off. But nobody can make you physically punch somebody in the face. We end up doing that to ourselves from people being real disrespectful in the way they're speaking to each other, pointing fingers all in people's faces. Some people just can't take that.

On the flipside, people can't see the producers setting you up. Do you guys ever feel regret?
Chrissy: Absolutely. It's like, why did I let them get me that angry? It's compromising to your soul because I didn't sign up for this, but I'll be damned if I'm gonna allow somebody to make a fool of me because the cameras are rolling.
Evelyn: I do and [the bottle incident] was one of those things where I was like, "That was wrong." The producers of the show could have edited that out but I take full responsibility. I mean, [Kenya] has kids at home.
PRODUCTION VALUE
The executive producers behind Basketball Wives, Love & Hip-Hop and Braxton Family Values discuss their show's nutritional worth, which gets lost between flying fists
SHAUNIE O'NEAL, Basketball Wives
I don't look to reality TV to give me an example on how to live, think or function. Television is television, and it's there for entertainment purposes. Being an adult, you have the power to make your own decisions on what you decide to guide your life by. Based off the language alone, my kids don't watch [Basketball Wives]. I teach them what's right and wrong and I lead by example. If your child is watching that kind of TV, that's your household and that's something you're responsible for as a parent.  Part of creating the show was to show that some of us had aspirations outside of being somebody's wife or girlfriend or fianceé or baby mama. We would get together and brainstorm different business ventures. It wasn't all: sit around and be pretty. I go to sleep well at night knowing who I am and what I stand for.—As told to Clover Hope
MONA SCOTT YOUNG, Love & Hip-Hop
The feedback I've gotten from my cast is that it's difficult being vulnerable and showing the more sensitive parts of their lives. But for them, it ends up being almost cathartic. If in some small way, they touched someone else's life or told a story that someone else can relate to, I think there's always something positive to be gotten from it. Sometimes it's hard to see your relationships or yourself even for what it really is, and I think this in a way held up a mirror for a lot of them.  People have a tendency to think this is super glamorous and that these people live a happy, fantasy life and don't have the same issues and insecurities. Sometimes seeing how they navigate certain problems helps other women realize that if this person on my TV screen can be honest with what she has to deal with, then it gives me a little backbone to deal with what I'm going through.
—As told to Adelle Platon
DAN CUTFORTH, Braxton Family Values
We never set out to make a show about conflict and drama because if you follow any family, there's inevitably going to be some of that. What really struck us about the Braxtons was their sense of humor. Like any family, they may drive each other crazy, they might argue, but they also have a ton of fun together. I haven't had to weigh the social ramifications. We're airing a show that has a positive, aspirational message. As a program maker, I think you do have a responsibility. It comes down to the network and the individual producer to decide what they're comfortable putting out. What works about reality shows is that they're a mirror to society rather than shaping society. People like the fact that they can see aspects of everyday life that they can relate to. It's hard to generalize because some shows people watch purely for escapism. Other shows people bond with the characters and it's like catching up with a group of friends.
—As told to C.H.
Checl the whole story at VIBE
LEAVE A COMMENT
comments