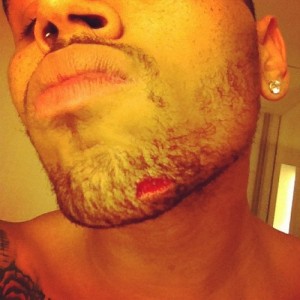 So apparently after i left Sin City in the BX (where the Self Made 2 Listening Party was held and attended by Ross, Meek, Wale, Drake, Gunplay, Khaled, Stalley, Fred Da Godson, etc, etc), people headed to Greenhouse in NYC to celebrate Teyana Taylor's signing to G.O.O.D. music.  Chris Brown and Drake where both in attendance and people that where there tweeted that Drake threw a bottle at Chris Brown and cut his face!   All this is of course alleged and Chris tweeted the above picture early this morning and since then has took it down.  Drake and Chris Brown have been subliminally tweeting hate at each other, allegedly all over Rihanna, who Chris Brown dated and Drake is rumored to have dated. Sounds like Drake pulled an Evelyn from BBW's. Don't know how accurate this is, but check Breezy and Meek's (who was also there) tweets by clicking below for more and read an update on this story.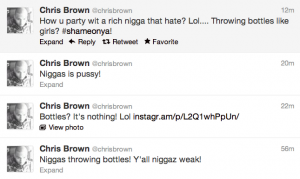 Update:
The twitterspear is now saying Drake and Meek were hanging out together at WIP in NY after they attended Greenhouse for the birthday celebration of Javon Smith, manager Ne-Yo, and Breezy was there. Apparently Breezy sent over a bottle to the pair, who are on tour together, and then the bottle was thrown! Now Meek maintains via his twitter that "It Wasn't Me." but he may have instigated it judging from tweets of people that were there. Chris Brown allegedly pulled Meek off some features for some reason (which people are saying is because of rumors that Rihanna allegedly gave her good Barbadian couchie to Meek). Lawrddd! Meanwhile Meek has a girl in Philly!
A Lot of unknowns, allegeds, subliminals, inferences and speculation going on but what IS known is that RIHANNA IS PUTTIN IT ON DUDES and got them all strung out! Meanwhile Kariuche (Breezy's girl) must feel like shit since her man ain't fighting over her couchie! LOL
Update 2:
Mikey Fresh from Vibe Mag is reporting..
My insider says many celebrities were at nearby club Greenhouse to celebrate Teyana Taylor's signing to G.O.OD Music but then partiers moved to W.I.P (Work in Progress) including Fabolous, Ne-Yo, Adrienne Bailon, Juelz Santana, and Mary J. Blige. According to our source, some rappers were trying to out do each other with their bottle orders. And she claims that Chris Brown ordered four bottles of Cristal and had one sent over to Drake's table as a "gesture of good will." Our source did not see the actual exchange but claims that her coworkers tell her that Drake refused the bottle and sent a reply note (Rumor has it, the note read something like, "I'm f*ckin the girl of your dreams, deal with it."). Chris walked over to Drake's table. Meek Mill was also with Drake. She says it appears that Meek was arguing with Chris. And then glasses and bottles started flying. Our source says Drake had a number of very large security guards and they rushed him out the back door, and not the bathroom.
Meanwhile Roscoe Dash and Meek go back and forth on twitter over this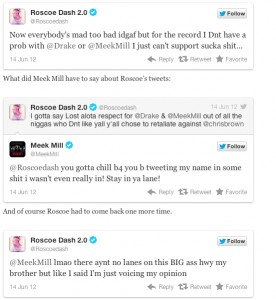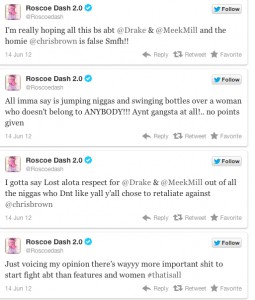 Update 3:
TMZ is reporting that Chris Brown's bodyguard Big Pat was in the hospital for head injuries.  Check picture below.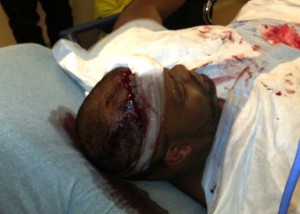 Here is a pic of the club after the fight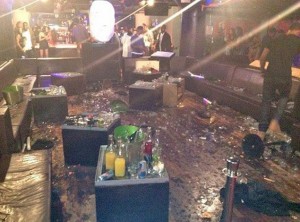 Update 4:
TMZ has released a chronology of what happened after the fight!
10:55 AM PT — Drake's rep just issued a statement about the incident, insisting Drizzy wasn't involved in the brawl at all … the beef was between CB and another rapper named Meek Mill.
10:15 AM PT –A witness who was inside the club tells TMZ … Chris Brown did NOT send any bottles over to Drake's table, despite several reports to the contrary.
Apparently, Brown and Drake had been hanging out in the VIP section … when Drake began pointing and yelling at Brown.
Brown began yelling back … and that's when members of both entourages rushed in and began shoving each other.
With tensions running high, someone threw a bottle — which set the whole thing off … and the shoving turned to punches.
We're told club security rushed in to break up the fight … and called police for backup. Brown and Drake left the scene by the time cops showed up … but several members of their entourages remained at the club.  Multiple members of both crews required medical assistance.
We're told the club suffered some serious damage in the fight — including busted up tables, broken mirrors, shattered lighting and glass scratches all over the floors.
TMZ has confirmed with the NYPD that the two singers' crews got into a fight at WIP nightclub — 5 people were injured in the melee.
NYPD arrived on the scene after receiving a call between 4 and 5am. Chris and Drake were not present when cops arrived.
Update 5:
Chris tweets Meek didn't have a part in the fight

LEAVE A COMMENT
comments