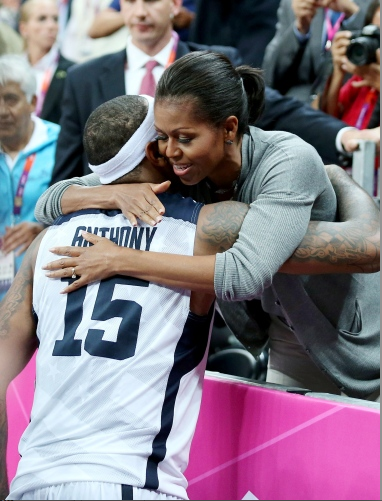 After their 98 to 71 win against France on Sunday July 30, the US Men's Basketball team received some love from the first lady. Once the games was over the Flotus moved from her seat  to the guardrail and embraced everyone on the team including former Syracuse University Basketball star Carmelo Anthony. When asked about his hug from the First Lady and her presence at the game he said "It was a very special moment…For her to be sitting over there and supporting us, we just wanted to thank her for coming." After the SU star's picture with the first lady was posted on twitter by Anthony's wife LaLa, it incited multiple twitter hashtags citing the Central New York University, the New York Knicks Forward, and the London Summer Games. In other news the Potus and ESPN talked about the Men's Basketball team's chances at winning Gold in London. Click below to see what the President had to say and to see the Flotus hugging the rest of the Team. 

London Summer Olympics Basketball Recap

U.S. Men's Basketball Team Wins First Game, Against France: The U.S. men's basketball team won their opening game of the London Games on Sunday, defeating France 98-71. Kevin Durant was the high scorer for the U.S. with 22 points, Kevin Love had 14, Kobe Bryant had 10 points, Caremelo has 9 points/9 rebounds and LeBron James had 9 points in the competition. The USA shot 43% from the field, including 32% on three-pointers. But it outrebounded France 56-40 and held France to 39% shooting. First Lady Michelle Obama was at the game and the U.S. players lined up after the victory for a hug from her. The U.S. will play against Tunisia on Tuesday on July 31st.
LEAVE A COMMENT
comments