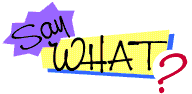 Porn Sold At Wendy's– A drive through Wendy's worker in San Antonio, Texas is going to the big house after he allegedly sold customers burgers with some porn on the side. Juan was sentenced to almost 22 years in prison for distributing child pornography to customers with their food. Juan gathered his costumers online and sent them to the Wendy's where he worked. The code word to get a memory card full of porn was "Scooby Doo."
George Bush Doing What? – George W. Bush has written the forward for a book on how to rebuild the economy.  The book is called "The 4% Solution: Unleashing the Economic Growth America Needs."  It's gonna be a collection on essays from a bunch of economics, 5 of them who are Nobel Prize winners.
Report Releases The Freakiest Cities – A new Trojan Charged Survey found Miami and Atlanta to be the most sexually adventurous cities. Atlanta topped the list with 71% who said they were sexually adventurous.  Miami came in first with 73%, some having sex 177 times a year. Then I looked up the cities with the highest AIDS rates in 2011 and sure enough Miami is #1 and Atlanta is #14.
#SayWhat News is everyday at 7:50a with @minasaywhat on @power99philly
LEAVE A COMMENT
comments