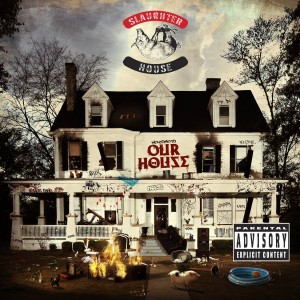 Rap supergroup Slaughterhouse has just released the tracklisting for their debut album "welcome to: Our House". The Eminem produced album was supposed to hit shelves on June 12 but has been rescheduled for an August 28th release. The regular edition of the album will contain 16 songs and features from Eminem, Skylar Grey, Cee-Lo, and Swizz Beats while the deluxe edition will contain 4 more songs and features from B.o.B. and Eminem. At this point the group has stated that the vocal recording process has been completed and a few tracks still need mixing. Click Below to see the full tracklisting for "welcome to: Our House" .
1. The Slaughter (Intro)
2. Our House feat. Eminem & Skylar Grey
3. Coffin feat. Busta Rhymes
4. Throw That feat. Eminem
5. Hammer Dance
6. Get Up
7. My Life feat. Cee-Lo Green
8. We Did It (Skit)
9. Flip A Bird
10. Throw It Away feat. Swizz Beatz
11. Rescue Me feat. Skylar Grey
12. Frat House
13. Goodbye
14. Park It Sideways
15. Die
16. Our Way (Outro)
Deluxe Edition
17. Asylum feat. Eminem
18. Walk Of Shame
19. The Other Side
20. Place To Be feat. B.O.B.
LEAVE A COMMENT
comments