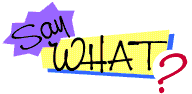 Mormon Church Leader Has Been Accused In Penis-Biting Attack – A Latter-Day Saints church leader in Utah is being accused of biting a man's penis after assaulting his mother and sister.  According to the arrest affidavit, the church leader who was described as "family friend," went to the home of a 13-year-old girl and during the visit he assaulted her by attempting to kiss her and grab her booty. When the girl's 20-year-old brother entered the room he left.  Then he returned to the home and the girl's mom asked him to leave. Apparently the dude pushed his way into the residence and began to assault the mother. She yelled for help and tried to fight the crazy off. She said the defendant ripped her shirt exposing her breast. When the brother came in to defend his mom the guy grabbed his penis through his boxer shorts and bit his penis causing severe damage that required surgery," the arrest affidavit reads.
Woman Growing Nails Instead Of Hair – In September 2009 this young girl had an allergic reaction to steroids she was given for an asthma attack. Within months she was covered by a skin disease doctors have yet to diagnose.  She was treated for everything from eczema to a staph infection and nothing has changed.  It looks like nail cells are growing all over her body. Doctors determined she produces 12 times the number of skin cells per hair follicle, which suffocates her skin.  "Where hair grows, nails are growing,"
Guy Guilty Of Performing Oral Sex On A Horse – 20 Year Old Jeremy Johnson of Pennsylvania, pleaded guilty to breaking into a barn and performing oral sex on a female horse.  Johnson was sentenced to two-and-a-half years probation for defiant trespass and sexual intercourse with an animal.
#SayWhat News goes down everyday at 7:50a with @MinaSayWhat on @Power99Philly.
LEAVE A COMMENT
comments