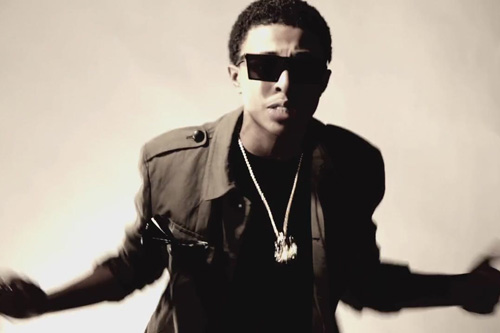 Seems like the truce between Diggy and J.Cole is over.  You might remember that it all started when J.Cole said he was creepin with Diggy's sister, Vanessa. Diggy released a song defending his sister. Last time i saw Dig he said him and Cole talked it out and they squashed the beef. Recently, J. Cole spit a freestyle during his guest appearance on Kendrick Lamar's show in North Carolina and said,
Picture me hating on a young n*gga with talent.. caked out on his allowance.
Seems like Diggy didn't take kindly to the subliminal and released this song where he directly addresses Cole.
I guess I rattled you, snaggletooth. You know better. Thought J stood for Jermaine, not Jet Setter. You seen me and shook my hand, coppin' pleas in person. Now you whack, less than a man, mention me in verses. Man you used to have dreams of my big sister kissing you, now its nightmares of her younger brother dissin ya. Sneak disses and jabs, I don't really see the benefit, but I guess you lame enough, probably keep you relevant. Maybe you should sign with me, instead of Mr. Carter. How you made at me i got a relationship with my father.
Tyrese had also publically acknowledged that he's riding for Diggy. Check his tweet by clicking below for more.
Audio clip: Adobe Flash Player (version 9 or above) is required to play this audio clip. Download the latest version here. You also need to have JavaScript enabled in your browser.

LEAVE A COMMENT
comments