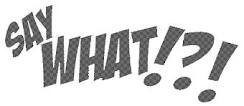 Another Genital Shooting – Cops say a 18-year-old boy from Florida, accidentally shot him self through his penis, through his testicle and into his leg while cleaning his gun.  The teen initially lied to police, saying that someone else shot him as he walked down the street. When officers investigated the incident at his home, they reportedly found some weed in the guys house. That led to the arrest of homeowner, who was 22, on drug charges.
Is Apple Violating Labor Issues? – As Apple prepares to unveil the latest iPhone 5 tomorrow, the company's manufacturing partner in China is coming under attack (again) over labor practices after reports continue that students are working at the plant making the phones. The company named Foxconn has acknowledged using student "interns" on manufacturing lines, but they say the studnets are free to leave at any time. But advocacy groups are saying that they spoke with students who said they had been forced by their teachers to make the I-Phones. The NY Times is saying the student are allegedly being told if "they don't work, they will not graduate, because it is a very busy time with the new iPhone coming, and Foxconn doesn't have enough workers without the students." Check the I-Phone 5 promo by clicking below for more.
Elvis Presley's Personal Items Being Auctioned Off – By personal items I mean his and bible and…. dirty underwear.  Elvis Presley's old Bible was auctioned for a whopping $94,600, but the King Of Rock's stained tighty whities only reached a bid of about 8,000.  The reserve price was 11,000, so they didn't sell it.
#SayWhat News (weird, outrageous  and crazy news) goes down everyday at 7:50a with @MinaSayWhat on @Power99Philly.
LEAVE A COMMENT
comments