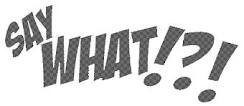 Apple Is Moving These I-Phones– Apple said yesterday that it had sold over 5 million iPhone 5 in the 3 days since it went on sale and had run out of its initial supply. Many pre-orders are now scheduled to go out in October. The supply issues are likely to get tougher as the iPhone 5 will launch in another 22 countries this Friday. I told you about the I-Phone plant in China that was being criticized for forcing students to work at the plant by threatening they wouldn't graduate if they didn't. Well turns out that same company, which is Apple's largest manufacturer, Foxconn Technology, closed a factory in China after a riot broke out among 2,000 employees. Hmmmmm, I wonder why they rioted.. lol Looks like Apple will continue to have supply issues.
Man Sues Ex For Stealing His Sperm To Get Pregger – A couple was married for 4 years and wanted to have a child. They went to a fertility clinic twice to try to make it happen with no success. As the marriage was falling apart, the wife went to Russia where she underwent further fertility treatment without telling him. The man told the Appeals Court that when his wife returned, she went back to the original clinic and forged his signature on forms consenting to the use of his sperm in storage. He only discovered he had become a father 4 months after the divorce when she told his friend about it.
NYC Schools Offer Morning-After Pills At 13 Schools – The New York City Department of Education is making the morning-after-pill (also called Plan B) available to high school girls at 13 public schools. Plan B is the emergency pill that can prevent pregnancy if used within 72 hours of unprotected sex. Because of a new pilot program called CATCH, girls as young as 14 will be able to get the Plan B emergency contraception without parental consent. Parents have been notified about CATCH and how their daughters can opt out of it. The city council spoke woman says she supports the program because high school students are sexually active and getting pregnant. The city says about 7,000 girls get pregnant by the time they reach the age of 17. It says more than half choose to get an abortion. NYC schools already distribute free condoms to students.
#SayWhat News (weird, outrageous, surprising and crazy news) goes down everyday at 7:50a with @MinaSayWhat on @Power99Philly.
LEAVE A COMMENT
comments