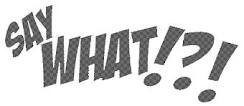 Bacon Shortage On The Way– In a recent press release, the U.K.'s National Pig Association is warning that a "world shortage of pork and bacon next year is now unavoidable." New data shows the European pig herd is declining at a significant rate and this is a trend that is being mirrored around the world. Pig farmers are being hit by high pig-feeding costs, caused by the global failure of maize and soya harvests. All main European pig-producing countries are reporting shrinking pig herds." And the Financial Times reported that this past season's droughts in North America and Russia are to blame for the spike in prices for grain crops, which are used to feed animals. We better pray for rain or no more pernil for anyone.
Reports Of 'Zombie Bees' – "Zombie bees" have popped up in Washington State. They have a parasite that causes them to fly at night and lurch around erratically until they die. Turns out thee bees are infected with pupae of parasitic flies. Observers also have found zombie bees in Oregon and South Dakota.
Another Reason Why Men Love Breasts – One of the world's leading experts in the neuroscience of social bonding has studied why men are obsessed with the tatas. He says, men are the only male mammals fascinated by breasts in a sexual context. Women are the only female mammals whose breasts become enlarged at puberty, independent of pregnancy. We are also the only species in which males caress, massage and even orally stimulate the female breasts during foreplay and sex. This study is saying that it's biological and deeply engrained in our brain. In the past, some evolutionary biologists have thought that full breasts store fat, which, in turn, signals to a man that a woman is in good health and therefore a top-notch prospect to bear and raise children. These neuro-scientists are saying that's not the case and that there are things in the brain that promote the powerful bond of a mother to her infant. Breast-feeding helps this bond. When a partner touches, massages or nibbles a woman's breasts, it sparks the same series of brain events as nursing. This is the root of the breast obsession.
Burglar Falls Asleep While Robbing A House – Cristian Villarreal-Castillo was charged with burglary and theft in Rockcreek, Oregon after apparently falling asleep mid-crime last Friday. A resident stumbled across Villarreal-Castillo sleeping on his kitchen floor in the wee hours of the morning. Police found other items apparently stolen elsewhere on Villarreal-Castillo, including a GPS system and several electronics. Police believe that the alleged perpetrator had carried out another burglary just hours earlier. It's unclear what caused Villarreal-Castillo to fall asleep during the failed raid.
#SayWhat News (weird, outrageous, surprising and crazy news) goes down everyday at 7:50a with @MinaSayWhat on @Power99Philly.
LEAVE A COMMENT
comments