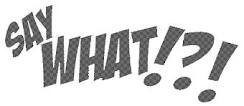 'Bagel Head' Trend On The Rise In Japan – A form of temporary body art called a "Bagel Head" is becoming popular in Japan. To get the look, saline is injected into the forehead until it swells into a circle. Then you press the center to create the "hole" of the bagel. The process takes two hours but lasts up to 24 hours until the body absorbs the saline. When asked why they are doing it; they said it's about being innovative. If you want to learn more about this, Catch the episode on National Geographic on tonight Thursday, Sept. 27 at 10 p.m. ET.  Watch the video by clicking below for more.
Woman Holds Up Store By Pretending Finger Was A Gun – A woman in Pennsylvania was arrested after she robbed a store using her finger and pretending it was a gun. The woman admitted to the robbery of a Dollar General in Walnutport yesterday where she got away with a bottle of pain reliever and $148. She used her finger by pointing out from inside of her jacket and said "This is a stick up… Give me all the money or someone is going to get hurt." She was charged with robbery and taken to the Northampton County Prison on $25,000 bail.
Woman Caught Smuggling Cocaine – 2 women coming from South America into the U.S. were searched by popo when they appeared fidgety and extremely nervous. One woman looked like she was going to faint. During a pat-down, an investigator felt "an unusual bulge beneath the defendant's hair weave." When asked about the bulge, the woman claimed that it was "part of her hair weave." When asked to remove the weave the woman said that she could not "because she had a package that was sewn into it." The woman stated that her boyfriend in Guyana "told her to bring that package under her hair weave to the United States for him." She said she didn't know what was in it. The second woman refused to remove her weave because it "was sewn to her natural hair," she was transported to a medical facility where the weave was partially dismantled. Inside, agents discovered a rounded package containing more than a kilo of cocaine.
Man Held Lost I-Phone For Ransom – Police in Pennsylvania said a 20-year-old man who found an iPhone 3GS in a movie theater refused to return it until the owner — a girl named Kaitlyn and her mom, Donna — paid him a ransom. When Kaitlyn told her mom she lost the phone, Donna called it and a man named Erick picked up. Police said the man — whose full name is Erick Rosales Rojo — would only return the phone if Barr met him and paid him $40. Barr decided to call police instead. An officer posing as Kaitlyn's father informed Rojo there was no reward and that he was in possession of a stolen phone when Rojo replied, "No, I would like some cash for it." When Rojo showed up to collect, police arrested him for attempting to profit off the theft of lost or mislaid property.
#SayWhat News (weird, outrageous, surprising and crazy news) goes down everyday at 7:50a with @MinaSayWhat on @Power99Philly.
LEAVE A COMMENT
comments