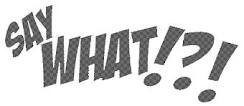 Boys Tweets Yolo Before He Dies – A 21-year-old aspiring rapper, tweeted about driving drunk doing 120, minutes before dying in a one – car -car crash that killed the rapper and four others. His tweets read, "Drunk af going 120 drifting corners #FuckIt YOLO" (You Only Live Once). Another tweet said "Driving tweeting sipping the cup f*** yolo I'm turning it up." Don't get it twisted people YOLO does not mean your invincible. It's actually the opposite. Don't make stupid decisions because you only live once.
Professor Criticized For Breastfeeding During Class – An American University anthropology professor is getting criticized for breastfeeding her baby on the 1st day of teaching her "Sex, Gender And Culture" class. She bought the baby to work because the baby had a fever and when the baby grew restless she started to breastfeed the baby without stopping the class. The professor said she didn't consider feeding her child a "delicate" or sensitive act. American University said, "Faculty members conduct in the classroom must be professional."
Drag Queen Gets Violated In Jail – A drag Queen (obviously born a man) is suing for 20 mill after being sent to a women's prison and being sexually assaulted in the shower. He claims he was placed in a female facility even after being inspected by two sets of doctors. The 52-year-old drag queen said he was abused by the other prisoners when they realized he had still had male anatomy.
#SayWhat News (weird, outrageous, surprising  and crazy news) goes down everyday at 7:50a with @MinaSayWhat on @Power99Philly.
LEAVE A COMMENT
comments