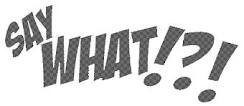 Man Cooks His Wife – A chef in LA is on trial for the murder of his wife. He told investigators that he disposed of her body by boiling it for four days then trashed the remains with other waste in a grease pit in his restaurant. It all happened when he came home one day and agreed with his wife and he got so angry that he duct-taped her mouth and bound her hands and feet before falling asleep and finding her corpse cold dead the next morning.  In a panic he stuffed his wife's body face-down into a 55-gallon drum of boiling water and proceeded to cook it for four days. He said that he used weights to submerge Dawn's 105-pound body in the boiling water.
Child Runs Up Credit Card Bill While Playing A Game: A 6-year-old in England ran up his family's credit card bill to $3,200 while playing the children's game, Monster Island. Fraud investigators contacted the family after noticing some unusual activity on the account. After looking into it the family realized their grandson ran up the charges while playing the iPad game. The boys grandfather said, "I must have synced my credit card up with the App Store and Will has just been pressing buttons buying baskets of food and coins for his monsters. I can't believe how easy it is for kids to buy things. Will's only six." Smith contacted Apple and explained what happened and the company refunded him the entire amount.
Man sentenced to life for killing two Sex offenders – A man who killed two sex offenders in Washington this past June has been sentenced to life in prison without the possibility of parole. Authorities say he killed the men as part of a vendetta against sex offenders. The wife of one of the men killed says people who support him and consider him a "hero" have stalked their house, thrown things at their car, spat on them and more.
#SayWhat News (weird, outrageous, surprising and crazy news) goes down everyday at 7:50a with @MinaSayWhat on @Power99Philly.
LEAVE A COMMENT
comments