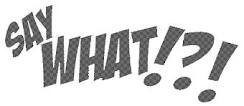 Man Mauled At Bronx Zoo – A tiger mauled a man when he jumped from a monorail at the Bronx Zoo into the animal's cage on Friday. He is now facing misdemeanor trespassing charges after telling police he did it because he, quote, "wanted to be one with the tiger." He told police he wasn't afraid when he leaped from the monorail and wasn't trying to commit suicide. Despite suffering serious injuries, the 25-year-old real estate agent said he was able to get his wish and pet the tiger before zoo staffers rescued him by using a fire extinguisher to chase the tiger away. His injuries include bites and punctures on his arms, legs, shoulders and back, a collapsed lung, and a broken right shoulder right rib, right ankle and pelvis.
Restore Your Virginity In 5 Minutes For 30 Dollars – Someone in Hong Kong has developed an Artificial Hymen Kit. For about $30, women can buy a packet of fake blood and "membrane" that's supposed to be utilized — secretly — during sex. The company implies that the product will save marriages by allowing women to trick their significant others into thinking they still have a hymen. Don't get you hopes up ladies, New York Magazine tested the fake pumpum and it seems like the Artificial Hymen Kit serves more as a packet of fake blood than actual flesh.
Ingredient In Bath Salts Revealed – When I say Bath Salts I don't mean the Epson salt you soak in in the tub. Bath Salts are a street name for a new drug that caused hallucinations. They are small crystals and look like Bath Salts which is were they get their name. It has been revealed that MDPV is the drug in these Bath Salts and it is ten times stronger than cocaine. It causes users to become paranoid, violent and agitated, at times leading to hallucinations.
Watch the the woman that pee'd on herself and then bathed herself in the subway by clicking below for more.
#SayWhat News (weird, outrageous, surprising  and crazy news) goes down everyday at 7:50a with @MinaSayWhat on @Power99Philly.
LEAVE A COMMENT
comments