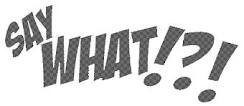 Mother Operated Prostitution Ring With Child At Home – In Florida (what is going on in Florida. people are losing their mind), police say a 32-year-old woman ran a prostitution business at home while caring for her infant child. They say she would take her child into another room when performing the acts. The police received a tip about an ad that was placed online. They conducted a prostitution sting and arrested the woman when she asked for $200. After she was read her rights, the woman told officers she did it because she was "addicted to money."
Doctor's Operate On Child's Stuck Tongue – The 8-year-old girls tongue got stuck in a water bottle during Cheerleader practice. The girls tongue was so swollen punching holes in the can and even cutting the bottom of the bottle off didn't work. The bottle had drifted so far back in her mouth that it was almost at her wisdom teeth. It took doctors more than 8 hours in emergency surgery to remove it. Her mom said doctors have told them she will likely need speech therapy because of possible nerve damage she may have suffered.
Loyal Dog Sits By Owner For 6 Years – The German Shepherd's name is Capitán and he ran away from his new home after his owner and best friend died in 2006. A week later the mans' family found the heartbroken dog grieving at the gravesite. The family says, "We had never taken him to the cemetery so it is a mystery how he managed to find the place." Every Sunday, for the past six years, the Guzman family has gone to the cemetery to visit both the man and the dog. They say the dog often leaves the cemetery to spend a short period of time with his family, but always returns to the gravesite before dark. The cemetery staff say every day, at six o'clock sharp, he lies down on top of the grave and stays there all night."
#SayWhat News (weird, outrageous, surprising  and crazy news) goes down everyday at 7:50a with @MinaSayWhat on @Power99Philly.
LEAVE A COMMENT
comments