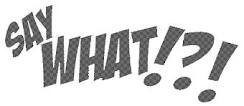 World's Oldest Man Dies– According to Russia a man born in 1890 died at the age of 122. He says he lived that long because he lived his life without alcohol, tobacco and lots of women. They tried to get him enter him into the Guinness World Records but they were unable to find a birth certificate or any papers to prove his age. The man outlived 3 of his 4 sons, left behind 18 grand-children and more than 20 great great grandsons.
More Crazies In Florida – Bath Salts must be cheap in Florida because this story is bizarre. Detectives have arrested a woman for pulling a gun on a guy she had sex with while in a moving car! Victim (the man) and his friend met 2 woman at a pub and invited them back to his apartment. He had sex with 1 of the woman and after they finished she asked him for $250. He didn't have that much $ so he gave her $120. The 2 women then left and the guy ended up calling the same girl he have sex with later that night to meet at a store. The woman's friend show up alone and she ended up getting in the car with him. As he was driving she began touching him and having sex while they were driving. After she asked for $120 (the same amount he gave her friend) and he said he already gave her friend money. Then the woman pulls out a .357 Taurus revolver to his head and demanded the money. The victim grabbed the gun and punched her in the head as he was driving. He lost control of the car and crashed into a palm tree.
Words Added To Dictionary – Some "pop culture" words have been added to the dictionary. "Mommy porn" was added since the explosion of the book "Fifty Shades Of Grey." Also added is "amazeballs" which is described as "better than amazing." "Tiger mother" was also added and is described as "a very strict mother who demands that her children reach a high level of achievement." How about ratchet? Will they add that?
#SayWhat News (weird, outrageous  and crazy news) goes down everyday at 7:50a with @MinaSayWhat on @Power99Philly.
LEAVE A COMMENT
comments