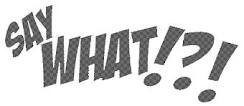 High Obesity Rates In The States- A new report claims that by 2030 more than half of the adults in 39 states will fall into the obese weight category. This same report concludes that at least 13 states will have 60% of the adult population classified as obese if current trends continue. As of right now two-thirds of adults and 1/3 of children in the United States are either overweight or obese. This puts them at a much higher risk for serious health issues.
Professor Accused Of Kicking Student- An East Michigan University student is alleging that his History of Black Americans teacher kicked him to wake him up from a nap during a 3PM class. The student left the classroom immediately after and reported the incident to campus police. The professor denies the accusations and says that he merely spoke louder and asked the student to wake up. He also claims that he may have touched the students foot while walking past but that any contact was accidental. The student has decided not to press charges but does which to switch into another class.
Man Wins Lawsuit For Popcorn Disease- A Denver man was awarded $7.2 million for a respiratory disease he developed after inhaling popcorn fumes. Wayne Watson ate two bags of popcorn everyday for ten years and would inhale the butter fumes that came from the bag. He developed a disease called "Popcorn lung" which is caused by high exposure levels to a butter flavoring element called diacetyl. Many manufacturers no longer use the element but did not think that any consumer would be exposed to enough of the flavoring to worry about the disease. Watson calls the company negligent for not putting a warning on the label.
#SayWhat News (weird, outrageous, surprising  and crazy news) goes down everyday at 7:50a with @MinaSayWhat on @Power99Philly.

LEAVE A COMMENT
comments