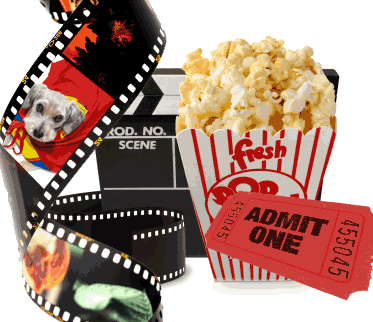 This Weekend's Top Ten Movies — September 21-23
1 (tie) End of Watch, $13 million
1 (tie) House at the End of the Street, $13 million
3. Trouble with the Curve, $12.7 million
4. Finding Nemo, $9.4 million
5. Resident Evil: Retribution, $6.7 million
6. Dredd, $6.3 million (Movie about a violent, futuristic city where the police have the authority to act as judge, jury and executioner)
7. The Master, $5 million
8. The Possession, $2.6 million
9. Lawless, $2.32 million
10. ParaNorman, $2.3 million
End Of Watch is a movie about Los Angeles police officers who become targets of a drug cartel.
House At The End Of The Street is about a teen who moves with her mother next door to a house where murderous events took place 4 years earlier. The pretty girl from the Hunger Games is in it. Her name is Jennifer Lawrence.
Trouble With The Curve stars Clint Eastwood as an aging baseball scout whose daughter goes with him on his latest road trip.
NFL Scores — Week 3: Here are the results of this weekend's National Football League Games (Home teams are listed in italics):
• Chicago Bears 23, St. Louis Rams 6
• Buffalo Bills 24, Cleveland Browns 14
• Dallas Cowboys 16, Tampa Bay Buccaneers 10
• Tennessee Titans 44, Detroit Lions 41 (OT)
• Jacksonville Jaguars 22, Indianapolis Colts 17
• New York Jets 23, Miami Dolphins 20 (OT)
• Minnesota Vikings 24, San Francisco 49ers 13
• Kansas City Chiefs 27, New Orleans Saints 24 (OT)
• Cincinnati Bengals 38, Washington Redskins 31
• Arizona Cardinals 27, Philadelphia Eagles 6
• Atlanta Falcons 27, San Diego Chargers 3
• Houston Texans 31, Denver Broncos 25
• Oakland Raiders 34, Pittsburgh Steelers 31
• Baltimore Ravens 31, New England Patriots 30 (Poor guy Torrey Smith on the Ravens team lost his brother yesterday morning and still did played. He had two touch downs )
Tonight!! Football continues and Usher's ex- wife, Tameka, will finally speak on Entertainment Tonight. Sources say she will open up about her bitter custody battle which airs today (September 24th). Tameka will also talk about her marriage to Usher and his infidelities. It's a 3 part interview.
Check out the sneak peak for Tameka's interview and the complete list of Emmy Winners by clicking below for more.
The Emmy's Winners List
Outstanding Supporting Actor in a Comedy Series – Eric Stonestreet, Modern Family
Outstanding Writer for a Comedy Series – Louis C.K., Louie
Outstanding Supporting Actress in a Comedy Series – Julie Bowen, Modern Family
Outstanding Directing for a Comedy Series – Steven Levitan, Modern Family
Outstanding Lead Actor in a Comedy Series – Jon Cryer, Two and a Half Men
Outstanding Lead Actress in a Comedy Series – Julia Louis-Dreyfus, Veep
Outstanding Reality Competition Program – The Amazing Race
Outstanding Host for a Reality or Reality-Competition Program – Tom Bergeron, Dancing With the Stars
Outstanding Supporting Actor in a Drama Series – Aaron Paul, Breaking Bad
Outstanding Writing for a Drama Series – Alex Gansa, Howard Gordon and Gideon Raff, Homeland
Outstanding Supporting Actor in a Drama Series – Maggie Smith, Downton Abbey
Outstanding Directing for a Drama Series – Tim Van Patten, Boardwalk Empire
Outstanding Lead Actor in a Drama Series – Damian Lewis, Homeland
Outstanding Lead Actress in a Drama Series – Claire Danes, Homeland
Outstanding Writing for a Variety, Music or Comedy Special – Louis C.K., Live at the Beacon Theater
Outstanding Directing for a Variety, Music or Comedy Special – Glenn Weiss, 65th Tony Awards
Outstanding Variety, Music or Comedy Series – The Daily Show with Jon Stewart
Outstanding Supporting Actress in a Miniseries or a Movie – Jessica Lange, American Horror Story
Outstanding Supporting Actor in a Miniseries or a Movie – Tom Berenger, Hatfields & McCoys
Outstanding Writing for a Miniseries, Movie or Dramatic Special – Danny Strong, Game Change
Outstanding Lead Actress in a Miniseries or a Movie – Julianne Moore, Game Change
Outstanding Directing for a Miniseries, Movie or Dramatic Special – Jay Roach, Game Change
Outstanding Lead Actor in a Miniseries or a Movie – Kevin Costner, Hatfields & McCoys
Outstanding Miniseries or TV Movie – Game Change
Outstanding Drama Series – Homeland
Outstanding Comedy Series – Modern Family
LEAVE A COMMENT
comments