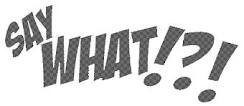 'Miss Bum Bum' Pageant Seeks Brazil's Best Butt– Brazil is gearing up for the "Miss Bum Bum" pageant in November, a nationwide contest to find the best butt in the country. The nation's cutest back side will be chosen out of 27 competitors, one from each of Brazil's Federative Units. Online voting will determine 15 finalists, who will travel to São Paolo in November for the "grand finale."
Woman Walks Off A Cliff While Texting – A lady from Alaska, was trying to dispose of a cigarette butt when she slipped on wet grass and plummeted 60 ft. She got  stuck beneath rocks on a beach. Rescue officials who came to save here were under great pressure after they learned they had to save her before the tide rolled in.
Man Shoots At A Jack In The Box – Washington police are looking for a man who they say fired a shot into a fast food restaurant after an employee working the drive-through asked him to turn down the music. The customer pulled up to a Jack in the Box and gave his order, but the employee said he couldn't hear it because of the music. When the man pulled up to the next window, he asked an employee for ranch dressing and fired into the store.
Banks Website Hacked Into – The biggest U.S. banks, including JPMorgan Chase & Co. and Wells Fargo & Co. have been hacked. The attack, which a U.S. official said was waged by a still-unidentified group outside the country, flooded bank websites with traffic, rendering them unavailable to consumers and disrupting transactions for hours at a time.
#SayWhat News (weird, outrageous, surprising and crazy news) goes down everyday at 7:50a with @MinaSayWhat on @Power99Philly.
LEAVE A COMMENT
comments