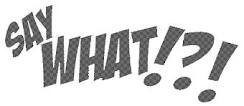 'Exotic Dancer' Calls Police To Report A Man – An exotic dancer in New Hampshire called police to report a man who allegedly hired her then refused to answer his door when she got to his home. She told police she was reporting a theft of services. The caption said she never really provided the service, unless her profession was to be a professional doorbell singer.
8-Year-Old Big Bird Fan Checks Mitt Romney – An eight-year-old girl in Alabama wasn't happy during the debate on Wednesday night when Mitt Romney said he would stop government funding for education PBS channel and Big Bird. She was so pissed Romney was gonna leave Big Bird unemployed that she wrote him a letter. "When I grow up I'm going to get married and I want my kids to watch it so do not cut it off. You find something else to cut off!" There are also lots of parody Big Bird twitter accounts and 1 tweeted "'Yo Mitt Romney, Sesame Street is brought to you today by the letters F & U! #debates #SupportBigBird".
Guy Has Sex With Horse, Again – The Crazy is named Patrick Louis Linn and this is the second time he's getting arrested on the same Tallahassee property, accused of sneaking in and sexually abusing horses. This time, he was allegedly caught having sex with a different horse named Sunny. The stall owner said he knew something bad had happened when he noticed lubricant on the barn floor near Sunny's stall.
#SayWhat News (weird, outrageous, surprising and crazy news) goes down everyday at 7:50a with @MinaSayWhat on @Power99Philly.
LEAVE A COMMENT
comments