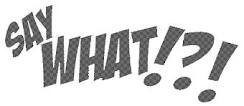 Judge Okays Ban On 'I Love Boobies' Bracelets – A federal district court judge has decided to continue the ban on I Love Boobies bracelets at a Middle School in Wisconsin. The bracelets were part of a campaign from the Keep A Breast Foundation and students wore them until the school banned them. The court said the Foundation's slogan is "vulgar and sexually provocative."
Woman Guzzles Hand Sanitizers – People get drunk in different ways.  Some drink dark, some like the clear, some like fruity, some like salty.  Well this woman in Connecticut got drunk by guzzling 1 and a half bottles of hand sanitizer. She as drunk as taking 32 shots of vodka and got arrested for DUI.
Woman Dies After Being Injected With Soup – An 88 year old woman who suffered from a stroke died after being injected with soup. The woman who was being treated in a Brazilian hospital had soup injected into her vein instead of her feeding tube. The hospital acknowledges that soup was in fact injected into the woman but that it was not the sole cause of her death. The family has filed a wrongful death lawsuit against the hospital and the negligent nurse.
#SayWhat News (weird, outrageous, surprising and crazy news) goes down everyday at 7:50a with @MinaSayWhat on @Power99Philly.
LEAVE A COMMENT
comments