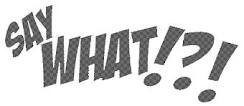 Lebron James Heroin– This stuff will get you high enough to get arrested.  Police in Upper Darby say they busted a 19-year-old drug dealer with 140 packets of that heroin called the Lebron James. The packets feature a picture of the Miami Heat ball player dunking.  This isn't the first time there's a outrageous for a drug. Remember the Obama-shaped ecstasy pills, Harry Potter ecstasy pills, and Bin Laden heroin.
Woman Grows New Ear On Arm – Doctors at Johns Hopkins have helped a 42-year-old woman grow a new ear on her arm. The woman is the first person ever to have their ear regrown in this way. Doctors used cartilage from her rib to shape the new ear, which needed to be placed under the skin in her arm for four months while it grew. The new ear was created to replace the one she lost due to Basal Cell Carcinoma (a form of skin cancer). Following the growth phase, doctors transplanted the newly grown ear into Walters' head.
Crazy Math Professor Strips During Class – The professor who has been described as "eccentric" allegedly stripped naked, ran naked through his classroom and screamed "There is no f*cking God!" He then started slamming his hands on the window and pressing his face against it, still screaming. Eventually he walked out and down the hallway to the end, all while screaming. He then came back into the classroom and took off his clothes, except for his socks. You know someones crazy when they leave their socks on lmao.
Peanut Butter Recall Widens: The recall involving the Trader Joe's brand Creamy Salted Valencia Peanut Butter has been expanded to other brands and nut products processed on the same machinery. New Mexico-based Sunland Inc. has extended the recall to other nut butters and nut products sold at Whole Foods, Target, Safeway, Fresh & Easy, Harry and David, Sprouts, Heinen's, Stop & Shop, Giant Food and several other stores. The Centers for Disease Control and Prevention has reported 30 cases of salmonella in 19 states, all linked to the Trader Joe's peanut butter. No other foods have been linked to the illness.
Shout out to the guy citied for drunk driving on a horse. #SayWhat News (weird, outrageous, surprising and crazy news) goes down everyday at 7:50a with @MinaSayWhat on @Power99Philly.
LEAVE A COMMENT
comments