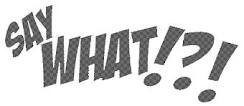 Man Assaults Wife Over Some Chicken – A man in Zimbabwe admitted to assaulting his wife because she decided to keep the best parts of their chicken dinner all to herself.  She gave him the a wing and she kept the breast for herself. A day later, the man consulted with the tribal counsel about his wife's mistake. She was found guilty and fined. Her grandmother was also put on blast for not teaching her "how to treat her husband and dish out meals."
Cheetos Makes Your Butt Bleed – Flamin' Hot Cheetos have been banned From Schools In California, New Mexico And Illinois. Not only does it lack any kind of nutrition, but its high in salts and fats. Some reports say it's so damaging that it can make your butt bleed.
Watch the mom twerking it with Her tatas nearlying popping while a young boy raps about her "Donk"
#SayWhat News (weird, outrageous, surprising and crazy news) goes down everyday at 7:50a with @MinaSayWhat on @Power99Philly.
LEAVE A COMMENT
comments