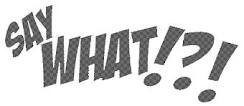 Man Dies After Winning Eating Contest – the 32 year old was from Florida (the cray state) enrolled himself in a giant cockroach-eating contest. After winning, the man felt sick and started vomiting. He then fell out in the store and was later pronounced dead. They even say he entered a superworm-eating contest earlier in the night.  Watch the video on him eating the roaches by clicking below for more.
Boy Twists Popo Nuts – A drunk 19 year old was thrown behind bars for getting a little too loose with a police officer. The kid faces charges of assault for grabbing and twisting a cop's testicles as the officer tried to cuff him for public intoxication outside a Dallas nightclub.
Skinny Inmate Escapes Prison – A 132-pound prisoner in Oregon escaped through a hole in the fence as he was being escorted into the jail yard for work detail. The jail authorities said that "99 percent of inmates" would not have been able to fit through the hole. Banes' mother and another woman have been arrested on suspicion of aiding and abetting but the prisoner is still at large.
#SayWhat News (weird, outrageous, surprising and crazy news) goes down everyday at 7:50a with @MinaSayWhat on @Power99Philly.
LEAVE A COMMENT
comments