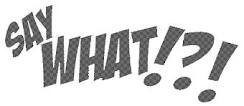 Small Penis Competition – It's in Denver and the winner will win an i-phone and the runner up will get an I-pad. Sounds funny but the people who put the contest together are saying that they are trying to send a message. They say "It's incredible how the media has frightened people from showing themselves as they are." It's good for people to show what they got.
Docs "Decapitate" Couple's Baby During Delivery – A Missouri couple filed a lawsuit against 2 doctors accusing them of decapitating their baby during a 2011 delivery and then trying to hide it by shoving the child's body and head back into the birth canal. OD! They say the woman was supposed to deliver thru a C-section and not vaginally because the child had a large abdomen. But when the women went into labor prematurely the doc 'would not agree' to the Cesarean and 'would only deliver her baby by way of attempted trial of vaginal delivery.'
Shots Fired At Obama Campaign Office – Police are looking for a man who allegedly fired shots at an Obama campaign office in Denver. Reports say that there were people inside the office at the time of the shooting but that no one was injured. A single bullet broke a window but it has not been confirmed whether the shot was intended for the office.
#SayWhat News (weird, outrageous, surprising and crazy news) goes down everyday at 7:50a with @MinaSayWhat on @Power99Philly.
LEAVE A COMMENT
comments