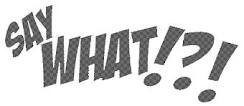 Student Auctioning Her Virginity For Charity – A 20 year old girl in Brazil is auctioning her innocence on the Internet to the highest bidder.  She's already received 190,000 offer and the auction ends Oct. 15. When it's time to seal the deal she will loose her virginity on a plane to avoid breaking any laws. Um well yea because giving it to charity or not, what she's doing is prostitution.
Study Says Frequent Facebook Users Are Fat, Mean & Poor – The study conducted by researchers at Columbia University and the University of Pennsylvania found that Facebook activity lowers self-control. Researchers found that facebook made people feel good about themselves and gave them a sense of entitlement. This makes it easier for people to lash out at others for their opinion. Frequent Facebook users were also found to have more credit card debt, lower credit scores and no self control when eating food.
Man Protesting A Buffet For Kicking Him Out For Eating Too Much – A Wisconsin man charged a local restaurant with false advertising after he was told to stop eating during an all-you-can-eat fish fry.  They said he ran out of fish and the man would not pay his bill until he was full. The restaurant said the mans eating habits have caused problems before and they offered to give the 350lb man eight additional pieces if he agreed to pay for his food. The man vowed to come back every Sunday to picket "until the restaurant rethinks what happened."
#SayWhat News (weird, outrageous, surprising and crazy news) goes down everyday at 7:50a with @MinaSayWhat on @Power99Philly.
LEAVE A COMMENT
comments