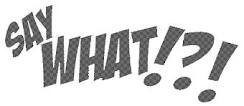 The U.S. Is "Short" In World Penis Map – When it comes to penis size, the U.S. is falling short. A new study ranked the world's countries by average length of erect penises and found that the U.S. ranked behind countries like Ecuador (7.0 inches), Ghana (6.8), Colombia (6.7), and Iceland (6.5). Coming out on top was the Republic of Congo where the average mans manhood is 7.1 inches.
People Faking Wheelchair Use To Skip Lines In Airports – My mom is leaving to Peru next week and yesterday I was looking at her ticket reservation and the travel agent highlighted that wheelchair use is available. My mom said the travel agent said she could use a wheelchair to help her carry her stuff. So I started researching and I found that, a lot of passengers use wheelchairs because no actual proof of a disability or anything is required to request a wheelchair.  Anyone in a hurry can do so and zip straight to the front of the line.
Fake Cope Tries To Rob McDonald's.. For Food – Sheriff's deputies in Florida said workers at a McDonald's called police to report a man who flashed a fake gun and badge in the drive-thru to get free food. Authorities said 33-year-old told workers that he had just come from a police sting and didn't have his wallet on him. When deputies showed up, the man ignored their commands to show his hands but ended up surrendering at gunpoint. He was charged with impersonating a police officer and improper exhibition of a firearm.
#SayWhat News (weird, outrageous, surprising and crazy news) goes down everyday at 7:50a with @MinaSayWhat on @Power99Philly.
LEAVE A COMMENT
comments