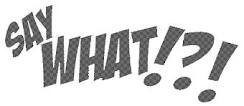 Woman Breastfeeds Dogs – A 44 year old mother of two has been breastfeeding her 9 year-old daughter's pug dog named 'Spider' for the past 2 years. The woman claims she could not breastfeed her own two children and now she feels more maternally fulfilled. She breastfeeds the dog 4 times a day.

Coffee Poop Trends – Earlier this week I told you about the world's most expensive coffee costing $50 a cup that's made from elephant poop.  Turns out this is a trend. There's cat poop coffee in Indonesia that goes for $10 a cup.  It's not an ordinary cat it's a bougie cat called "kopi luwak." There's also bird poop coffee. Basically, they process the beans through the digestive system of wild animals.


Couple In Florida Caught Having On Restaurant Patio Won't Be Charged – Police say a couple caught having sex on the patio of a Florida restaurant won't face charges for their interlude because none of the witnesses wanted to give statements to police.
#SayWhat News (weird, outrageous, surprising and crazy news) goes down everyday at 7:50a with @MinaSayWhat on @Power99Philly.
LEAVE A COMMENT
comments