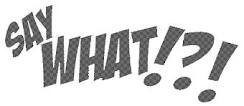 Woman Caught Riding The Wrong Mammal– A Florida woman turned herself in after the Sheriff's Office launched a high-profile search for her. What was her crime? There were photos of her riding a manatee. Quick animal lesson – Manatees are also called sea lions and they are an engendered species. Harassing a manatee in any way is against Florida law, and is a second-degree misdemeanor. If convicted, she could face up to 60 days in jail and a fine up to $500. According to media reports, authorities do not believe the manatee was injured in the encounter.
Army Veteran Blames Nurse For Losing His Man Organ – An Army veteran is seeking $10 million from the federal government, accusing a Veterans Administration nurse of repeatedly putting ice packs on his penis for 17 hours after surgery. He claims the ice caused his private part frostbite and gangrene and ultimately lead to the organ's partial amputation. His lawyer said "In addition to robbing someone of their manhood, they've robbed him of the simple ability to urinate just like every other person who lives in this world." He's gonna need reconstructive surgery to be able to use the bathroom again.
Four-Pound Hair Ball Removed From Teenage Girl's Stomach – A 19 year old went to the hospital because she wasn't able to eat or drink for a few days. After the examination the doctors found a hairball weighting nearly four pounds stuck between her stomach and small intestine. Turns out the girl had a bad habit of eating her hair and chalk while in class.
#SayWhat News (weird, outrageous, surprising and crazy news) goes down everyday at 7:50a with @MinaSayWhat on @Power99Philly.
LEAVE A COMMENT
comments