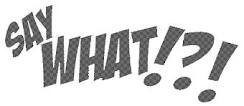 A Crazy Lights Vending Machine Up– A woman in North Carolina got so angry the 7-up machine at the Pigley Wigley's took her money that she lite it up! Surveillance cameras show that she kicked the machine, as regular people do when it eats their money, but then took it a step further and lite a newspaper and stuffed it in the machine.
World's Most Expensive Coffee Is Made With What? – The world's most expensive coffee is sold in Maldive Islands and Thailand and it's called Black Ivory Coffee. It's made with beans digested and "naturally refined" by Thai elephants aka it's poop! It costs $50 a cup! Damn!
No More Chairs At Starbucks – In other coffee news, some new Starbucks locations, which will get rid of tables and chairs and have drive-thru and walk-thrus. They will be very small and eco-friendly. some new Starbucks locations, which will forgo tables and chairs entirely in favor of a drive-thru and walk-up model.
#SayWhat News (weird, outrageous, surprising and crazy news) goes down everyday at 7:50a with @MinaSayWhat on @Power99Philly.
LEAVE A COMMENT
comments