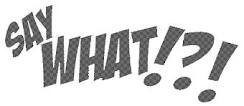 Another Zombie Attack– This is the time where I would make the Bath Salts joke, but this is so bad I can't even crack a joke. Be careful while riding Metro in Asia because there is a Zombie going around just eating people inside the trains. And there was video that was pulled off u-tube. This insane video shows a supposed 60-year-old man chewing on a 28-year-old teacher man over a seat. There's blood all over the floor and everyone is just watching him eat this defenseless man. It's horrible.
1000-Pound Woman Charged With Murder  – Possibly the fattest woman in the world, has been charged with capital murder for killing her 2-year-old nephew while she took care of him.  She had to be skyped into jail to receive sentencing because she can't move. Her sister claimed she rolled over and smushed the boy.  Turns out the boy's autopsy shows he had been a victim of physical abuse and had multiple skull fractures. Detectives concluded that the 1,000 pound womans' story was fake and that she was covering up for her sisters husband who's in the cartel and beat the kid to death and then threatened her life.
Facebook Can Stop You From Getting An STD– Researchers from the University of Colorado found that sexual health advice on the site encouraged condom use among teenagers, decreasing the chance of them spreading STDs.  The study is published in the November issue of the American Journal of Preventive Medicine.
#SayWhat News (weird, outrageous, surprising and crazy news) goes down everyday at 7:50a with @MinaSayWhat on @Power99Philly.
LEAVE A COMMENT
comments