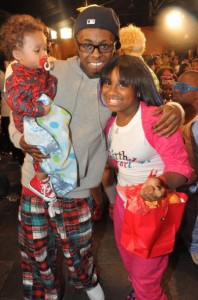 Is the self-proclaimed 'best rapper alive' hanging up his belt? Rumors have been swirling lately that Lil Wayne is seriously considering retiring from the rap game to settle down. He told MTV:
I know y'all want me around for a little bit, and 'Carter V' is my last album. Man, I've been rappin' since I was eight years old. I'm 30 now, man. That's a long time. My day job will probably be sports analyst, and I'll skate all night instead of being in the studio all night.
While he talks about settling down and getting married he does have plans to release "I Am Not A Human Being II" in February and "Tha Carter V" as his final album. Only time will tell if we're going to be seeing the end of Weezy F. Baby.
LEAVE A COMMENT
comments