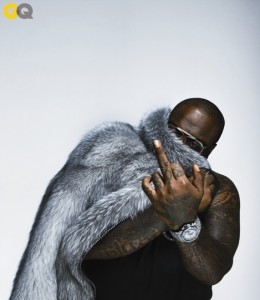 In GQ's upcoming "Man Of The Year" issue, Rick Ross was named "Bawse Of The Year." 2012 was definitely good to the Maybach Music Group Owner. On top of being named the 10th most powerful man in hip hop by The Source, his album "God Forgives I Don't" hit number 1 on the Billboards chart. After his interview he left readers with a little advice:
One, for Christmas go get yourself an MMG tattoo. Two, let's all stop smoking blunts; let's smoke out of papers. Ladies, you all should just love me. Let's all have a beautiful year, let's get this money.
Not sure about getting inked up but I would love a beautiful year, thanks Rozay and congrats!
LEAVE A COMMENT
comments