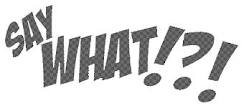 My heart goes out people who got snow from the Nor'Easter storm in addition to not having power & having flooding from Sandy.
Man Jailed For Child Porn – 56 year old man from Norristown, PA has been sentenced to 20 years. The man solicited his babysitting services with a background check over the Internet on a National Babysitting site.  A family hired him and turns out he was taking naked pictures of the little girl with his camera phone and sending them to another pedophile in Oregon.
Mary Jane Gets Her Green Card – Colorado and Washington have become the first states in the country to legalize the possession and use of marijuana for any adult 21 or over.
Mans Takes Pregnancy Test And Loses A Nut – Guy peed on a pregnancy test as a joke and his boy put it on the internet when he was positive. People didn't laugh tho, they told him to get tested for testicular cancer. Turns out the hormone in pee when your preggo is the name hormone in some cancers. The guy ended up having testicular cancer and had 1 of his ballies removed.
Man Cuts His Own Tongue – A man in India was so verbally abusive to his wife that she left him and took their daughter with her.  We was so upset, he cut his tongue.
#SayWhat News (weird, outrageous, surprising and crazy news) goes down around 7:55a and 8:55a everyday with @MinaSayWhat on @Power99Philly.
LEAVE A COMMENT
comments