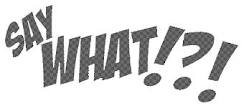 Bill Clinton Campaigns For Obeezy – He was out in West Philly getting people all amped up for Obama. Making sure we all get out to vote today. PA is a very important state and have really determine who wins this election and you don't need ID to vote unless you're a first time voter or you are voting at a new polling place. If they try to give you a hard time call 800-253-3931 or mail.
Chief, Voting Section
Civil Rights Division Room 7254 – NWB
Department of Justice
950 Pennsylvania Ave., N.W.
Washington, DC 20530
For info on how to find you polling place, getting a ride and for more info click HERE
Jersey Getting Another Storm – Still not fully recovered from Hurricane Sandy, meteorologists say a strong, winter-like storm is coming Jerseys way and could give Philly some snow Wednesday into Thursday. High winds and coastal-flood watches are in effect. The National Weather Service is calling this "a particularly dangerous situation" that will cause more issues. It won't be as strong as Sandy, but because the tri-state hasn't fully recovered from Sandy this will be very bad.
There's Obama Tissue – A firehouse in Florida has taken their feelings for President Obama to a whole new level. Members of the team of firefighters are using toilet tissue with the president's face to wipe their behind. Disrespectful!

Man Lets 400 Pound Boo Die In Poo – He is facing second-degree abuse of a vulnerable adult charges. He let his 400 pound wife die a slow death surroundedby maggots & her own waste. Yuck!
#SayWhat News (weird, outrageous, surprising and crazy news) goes down around 7:50a and 8:50a everyday with @MinaSayWhat on @Power99Philly.
LEAVE A COMMENT
comments