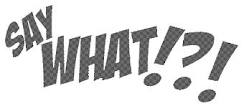 Drive Through Sex Boxes – In Switzerland, they are building "drive in" sex boxes that will launch next year. It's a place where people can discreetly meet prostitutes. The boxes look like garages and are big enough to fit a car. This place will make meetings easier for about 30 prostitutes and it will be on a first come, first served basis. PAUSE!
Madea Robs A Bank – A 45 year old man in Kansas dressed up as Madea and robbed a bank. The man threw on a woman's scarf, coat and carried a handbag during the holdup. Check the picture here.
Woman Explains Her Botched Butt Implant – There's video circulating on the Internet on a woman in a red thong with a big booty. She has a botch butt implant and says "This is my implant flipping backwards." You see her move and flip her implant under her skin.
Public Service On The Subway In The Bronx – There's another video on the Internet of 2 guys on a train in the Bronx and 2 girls are giving them head. You see their penis and everything and they clearly are high.  These little girls are nuts. Literally. Watch it here.
Police Force In Camden Moving Out Soon – Camden Mayor Dana L. Redd submitted a plan yesterday to the state to lay off the city's entire police department, paving the way for a county-run force. County force is expected to have 140 more office then the current city police have. The Civil Service Commission has up to 30 days to approve or reject the plan. They are hiring brand new police officers for this.
Boys Get A Liquid Surprise  – 2 Boys in Philly were rushed to the hospital when they took LSD by mistake. The boys, ages 7 and 10, were foaming at the mouth and hallucinating. They inadvertently took liquid LSD from a bottle of breath mint drops they found on the ground near their home.
Eleven $1M Powerball winners in NJ and Pa.; 1 in Montco – None of the Powerball tickets sold in New Jersey or Pennsylvania matched all six numbers to win the record $579.9 million jackpot. But 8 of the tickets in New Jersey and three in Pennsylvania matched five numbers to win $1 million. Check the places were the winning tickets were sold.
#SayWhat News (weird, outrageous, surprising and crazy news) goes down around 7:55a and 8:55a everyday with @MinaSayWhat on @Power99Philly.
The Pennsylvania Lottery says $1 million tickets were sold at the following locations:
Swaraj Service Station, 1700 Seventh Ave., Altoona, Blair County
Planet Mart, 494 N. Pike Road, Cabot, Butler County
Sunoco, 330 E. Lancaster Ave., Wynnewood, Montgomery County
The eight 2nd prize $1 million New Jersey winners were sold at the following locations:
Bally's Park Place, Park Place & Boardwalk, Gift Shop, Atlantic City, Atlantic County
Hess Express #30516, 2295 Route 4 East, Fort Lee, Bergen County
Park Avenue Grocery, 7001 Park Ave., Guttenberg, Hudson County
Sunset Deli & Liquor, 680 Kearny Ave., Kearny, Hudson County
Corner Store 286249, 832 Broadway, Bayonne, Hudson County
Danforth Deli 254614, 8A Rose Ave., Jersey City, Hudson County
Kary Candy & Wash 165565, 807 Bergenline Ave., Union City, Hudson County
Fleet Petroleum 313682, 1505 River Ave., Lakewood, Ocean County
LEAVE A COMMENT
comments