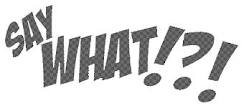 Execution Stopped By Supreme Court – A Man in Bellefont who kidnapped, raped and executed a teenage girl was sentenced to death, but his execution by legal injection was stopped yesterday. The Supreme Court stepped in and stopped it.  There hasn't been an execution in PA since 1999, so if this would have happened it would have been a big deal.
Drunk Mam Makes Himself At Home – A drunk 24 year old in Scranton walked into a strange house and made himself a late night steak, clams and shrimp dinner while the people that lived in that house slept. Then he walked out with left overs!
Deer runs into the NJ Yogurt Shop
Woman Names Her Twins Barack And Mitt – The woman is from Kenya and she named her newborn after the presidential candidates because the kids were born in south-west Kenya, close to where Obama's ancestors are from.
Boy Spends Family Savings On Candy – 9 year old Urkranian boy was pissed at his parents and went to the couch where they had their life savings and took the money.  The money was 600 Euros, which he converted into 3,000 by getting a mentality disabled person to do it for him.  He then spent the money on Candy.
Meth Helps Fight Flu – A new research study says that meth is a better cure for the flu than meds. Researchers in Taiwan exposed different cells infected with the flu virus to methamphetamines. Afterwards, the cells that were exposed had considerably lower concentrations of the flu. They hope to isolate the flu-fighting components to aviod having flu-free but meth-addicted patients.
#SayWhat News (weird, outrageous, surprising and crazy news) goes down around 7:55a and 8:55a everyday with @MinaSayWhat on @Power99Philly.
LEAVE A COMMENT
comments