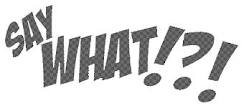 GPS Helps Husband Find Wife Cheating – Husband was suspicious his wife was cheating and used the GPS on her phone to track where she was. She found her in the back seat on a car having sex with a 16-year-old boy. To make it even worse the boy was an exchange student living in her house with her husband
Oxford Dictionary's Word Of The Year – The Oxford American Dictionary has named "gif," which stands for graphics interchange format and is a common format for images on the Internet, as its word of the year. YOLO was the runner up. Shout out to Drake.
Elmo's Name Cleared – On Monday we learned that the voice of Elmo, 45 year old Kevin Clash, was being accused by a 23 year old that he had underage sex with Elmo 7 years ago. Elmo has insisted that yes he had a relationship with the man, but it was when he was of age when he had it. Today we learned that the accuser retracted his statements. Does this clear his name? Take the poll on the side.
Officer's Family Puts Parole Board On Blast – The family of a Philly cop officer that was killed during a robbery is blaming the parole board for his death for not handling their business. 10 days before the officer was shot, the 23-year-old shooter was released from jail.  The judge ordered for him to be under electronic monitoring (on the ankle brace) and that never happened. He also failed a drug test and he didn't go back to prison. The family is saying if the Parole Board was doing their job the criminal would have never been back on the street and the officer would have not been shot.
Gov. Christie Raising Taxes – Governor of NJ is saying that the area hit hard by Sandy will see property taxes increase so that they have money to rebuild everything.  While the state caps property tax rises in towns at 2 percent, Christie noted the law includes exceptions for emergencies. These damn loop holes!
Temple Students Beware – Armed robbers have been targeting people in the area over the last few days.
#SayWhat News (weird, outrageous, surprising and crazy news) goes down around 7:55a and 8:55a everyday with @MinaSayWhat on @Power99Philly.
LEAVE A COMMENT
comments