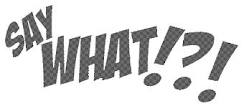 New Jersey Sandy Victums Will Be Able To Vote– Displaced residents will be designated as "overseas voters" and will follow the same procedures as residents serving in the military. Voters will be allowed to cast absentee ballots by email and fax. An application must be sent in to their County Clerk's office in order to qualify, you can email or fax the application and they will send you back an electronic ballot.  New Jersey will also have trucks set up with paper ballots at polling places without power on Election Day. You can text your address to 877877 to determine your polling place. Visit: www.elections.nj.gov for more information.
In PA – The Philadelphia Black Clergy Office is coordinating rides with their volunteers to get people to the polls who are without transportation. The office number is: 267- 639-9875
North Jersey Residents Feel Earthquake– A 2.0 magnitude earthquake shook Northern New Jersey around 1:20 this morning. The quake was centered in Ringwood, an area that is still dealing with the aftermath of Sandy. The quake was three feet below ground and could be felt in surrounding areas. No damage has been reported.
Child Mauled To Death By African Dogs– A three year old boy was mauled to death yesterday after he fell into an African dog exhibit at the Pittsburgh Zoo. After the little boy fell over the 14 foot rail zoo officials went into emergency mode and fired darts to scare the dogs off. The efforts were in vain because by the time EMTs arrived on the scene the boy had passed away. The zoo is closed until further notice.
10 Year Old Plays With Gun– A boy playing with a gun in a West Philadelphia playground shot himself in the hand yesterday.  The boy was taken to the Children's Hospital of Philadelphia where he was treated and later released. It is unknown how the boy came to be in possession of the weapon.

Woman Loses 2 Children To Sandy– A Staten Island nurse was caught in the storm in her neighborhood and the flood swept her two children from the roof of the car they were sitting on to avoid the rising waters. She ran up to the houses of some neighbors and knocked on the door and they said 'I don't know you. I'm not going to help you.' Other neighbors shut their lights off to avoid her. The bodies of her two children were later found.
Man Gives Cocaine To Trick Or Treaters– A British man has been charged with a drug offense after giving children cocaine bags instead of Halloween candy. The 23 year old man has been charged. None of the children ingested any of the drugs.
Big Money For Bigfoot– Spike TV is offering $10 million to anyone who can provide irrefutable evidence that Bigfoot really does exist. The new television series hopes to attract, "the best scientists, zoologists, trackers and Bigfoot hunters in the world in an attempt to prove or disprove its existence".
#SayWhat News (weird, outrageous, surprising and crazy news) goes down around 7:50a and 8:50a everyday with @MinaSayWhat on @Power99Philly.
LEAVE A COMMENT
comments