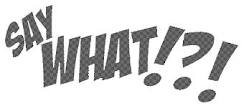 Nor'Easter To Weaken – Storm we are getting tonight into tomorrow morning is weakening. It was suppose to give Jersey some more coastal flooding and snow in PA 2-4 inches. Weather people are saying its expected to go farther off shore, so it will be a little weaker than we expected. Winds are still expected to be at 50 mph, more trees are expect to fall, more water and expect more power outages
Congrats and thank god Barack Obama is our president! He won PA by getting 52% of PA voters, 58% of the vote in Jersey and 59% of the vote in Delaware, but you know there was shady stuff going on at the polls
Voting Machine Caught Changing Obama Vote To Romney – A PA voting machine was removed after it was found turning votes for President Obama into a vote for Romney. Someone recorded it on their phone and reported it. Here's the video
[youtube]http://youtu.be/QdpGd74DrBM[/youtube]
Woman In Labor Votes – The chick is from Chi-town and her water had already broke and she was contracting. It was her first time voting.
Man Steals Lobsters For Drug Habit – Man in Allentown stole lobsters and meat from supermarkets in Allentown so he could buy some drugs.
Woman Beating, Upper Cutting Bus Driver Got Fired – bus driver is still charged with assault and the ratchet chick with disorderly conduct.
#SayWhat News (weird, outrageous, surprising and crazy news) goes down around 7:55a and 8:55a everyday with @MinaSayWhat on @Power99Philly.
LEAVE A COMMENT
comments